Well, first things first. Truman turned 9 months old on Sunday. I can't believe he is already 9 months. That is so crazy. Today, Carter brought him to visit me at the office while I was working and he crawled two steps. This was the first. He has been crawling a few little steps at a time all afternoon, now. I am not ready for another kid in motion.

We had a long weekend. After school last Thursday, Walker threw up and so we didn't get to go to one of Daddy's games. He was in a bad mood after that. Friday, Mom, Truman and I went looking at short term rehab facilities for Gigi. It took us all day and Truman was a trooper. We found one and she has been accepted. She will most likely be moved there on Wednesday (tomorrow). She is doing much better but tonight she fell in the bathroom b/c the nurse just left her in there.

Saturday, I woke up with a nauseous tummy. I couldn't keep anything down all day long and Carter was the best husband ever and took care of the boys all day long while I wallowed away on the couch and in the bed. I recovered, and on Sunday we were ready to take it easy, just running a few errands.

Yesterday, Carter had an upset stomach, but was ok for the most part. We capped off the day with some yummy burgers from 5 Guys.

Walker has been climbing trees lately. He is quick and can scurry up just like a monkey. Truman really is blossoming. He waves, gives me five, and shakes his head no at me all the time. Here are some pictures from the past week.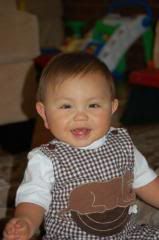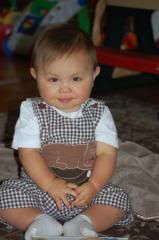 Walker found Carter's old high school jock strap and cup in a bag. He had fun trying it on.